Nowadays, a lot of the antique furniture is expensive and out of reach for most people to afford, with large antique prices and expensive shipping fee policies. That doesn't mean you can't get the best antique furniture for your home though. There are many retailers that sell affordable pieces to fit your budget. In fact, there are some really great options that you should take a look into that will add a touch of vintage charm in your home, from repurposed antique machines such as the classic sewing machine cabinet to handmade pieces to accompany your favourite antique table or black oak dresser. Here are the top 10 antique furniture pieces you can purchase for your home.
Antique Oak Furniture
A Classic Antique Oak Mirror
This oak mirror is a great piece of furniture to add to your home. It can be used in any room in the house and it's made of oak wood which will last for years to come. Classic antique oak mirror pieces are known for being affordable. There are a number of different styles of classic vintage mirrors, from round oak mirror pieces, to oak wall mirrors. In excellent condition an antique oak mirror piece can range between £100-£5,000 depending on the overall quality workmanship put into the design, the time period it dates back to and it's significance in rich history.
Choosing to add a large oak mirror to your home can be the perfect addition to your bedroom as part of a vintage vanity station, your latest solid oak mirror can be hung on the wall or can often come with two wooden stands ensuring it's security. Another great way to fashion a rustic oak mirror is to style it alongside nudes and warm tones in your 'cabin-style' living area. Light oak mirrors can compliment the warm tones of a vintage style living room. However, whilst light oak may be cheaper in price, there's nothing quite as beautiful as antique natural oak wood.
Price : £100-£5,000
Antique Nightstands
Wood antique furniture such as a nightstand is a great way to enhance your bedroom décor. They are usually placed at either side of a bed and can hold small items like books, glasses, jewellery, or even a lamp. They also provide extra space when you don't need anything on top of it. In addition, they're affordable and come in many different styles. And if you're looking for something that's bigger than a nightstand but not too big, then consider purchasing a dresser instead.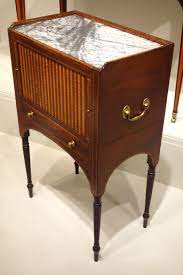 Also known as vintage bedside tables, antique nightstands can come in a variety of styles and designs, whether they stay true to their French heritage of accompanying vanity stations and dressers, with small handles and slim drawers, or they are deep trunks which can hold luggage and valuables.
Antique nightstands typically come in pairs, unless of course you have stumbled upon a truly rare vintage piece which may date back to the 1800's when nightstands were first invented. It's believed the first nightstand was invented to store 'chamber pots'.
Price : £200 +
Antique Oak Bookcase
Large bookcases have always been sought after pieces for antique collectors, with the most popular bookcases being dark antique oak wood. These vintage collectors pieces are often found in study rooms, living rooms or even in dining areas of family homes. They're arguably the favourite collectors piece as unlike other modern furniture it is difficult to replicate the true beauty of an original bookcase design, down to the engravings, the drawer handles and even the class fronting an oak bookcase is a completely unique piece. You could even choose an antique bookcase with glass doors to showcase some other antique items. A small antique bookcase would also be perfect for smaller rooms such as a bedroom or an at-home office.
Small oak bookcases can begin at the £600 range, however larger oak bookcases with doors can reach up to £10,000 depending on the era, the design and the craftsman. Bookcases are believed to have originated in the 600BC era, whilst they may look nothing as we know them know, the purpose of the piece is believed to be the same, a piece of furniture designed to hold scriptures, text and artefact's of importance.
Price : £600 – £15,000
Wooden Carriage Clock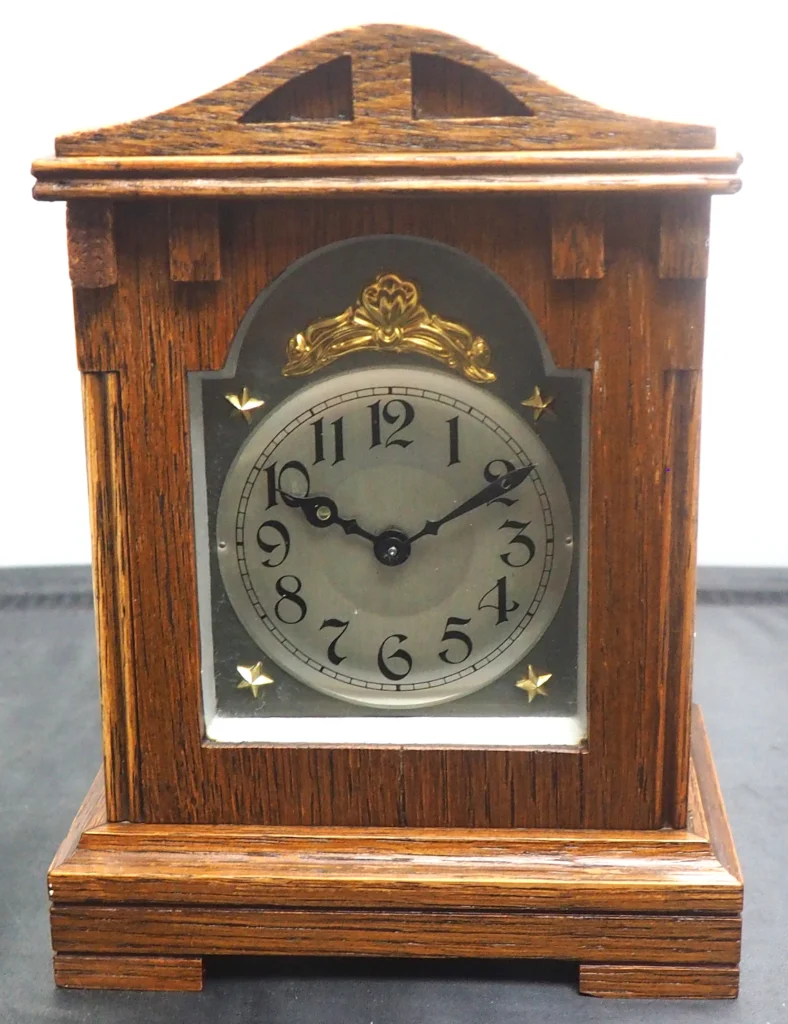 The carriage clock is made of the finest wood. The clocks are made of high quality material such as oak and will make a great addition to your collection. Wooden carriage clocks offer a vintage and rustic addition to any living room, you can decorate your home with a vintage twist by adding a stylish antique carriage clock as your centre piece.
Carriage clocks have long been appreciated to antique buyers and antique collectors, as they offer great detail in each design and can be used for both practicality and design flair.
Whilst there are multiple options for types of antique clocks, carriage clocks offer a simple addition to a home, whereas some designs such as antique grandfather clocks take up a large amount of space and can become the main focal point for a home, a small carriage clock can be a simple addition that doesn't distract from the overall aesthetic of your home.
Typically carriage clock prices range from £100- £500 range, however this can vary depending on the era and the materials used. Small wooden carriage clocks on average cost £200 due to their handcrafted details that are more difficult to find on modern clock designs.
Carriage clocks are believed to have originated in France in the early 1800's and were designed to be the 'traveling clock', the first clock of it's kind was made by Abraham- Louis Breguet for Napolean in 1812.
Price : £100 – £5,000
Antique Oak Chest of Drawers
If you're looking for a beautiful piece of furniture for your living room or bedroom, then an antique oak chest of drawers is the perfect piece of antique furniture for you. If your bedroom follows a rustic or minimalistic aesthetic, then having a chest of drawers not only allows for hidden storage that can contain your clothes, collectibles, bedding or shoes, an antique chest of drawers also acts as a design piece that can be placed at the bottom of your four poster bed, or as an addition to your vintage wardrobe or antique armoire.
When it comes to identifying whether or not your chest of drawers is an original antique it can be pretty straightforward. You should be able to detect an initial engraving or carving on the bottom slant of the chest of drawers, inside a drawer or going up the bottom side of the panels. The engravings should contain either the initials of the designer, the make of the company or the date in which it was crafted.
Price : £1000 – £10,000
Antique Ottoman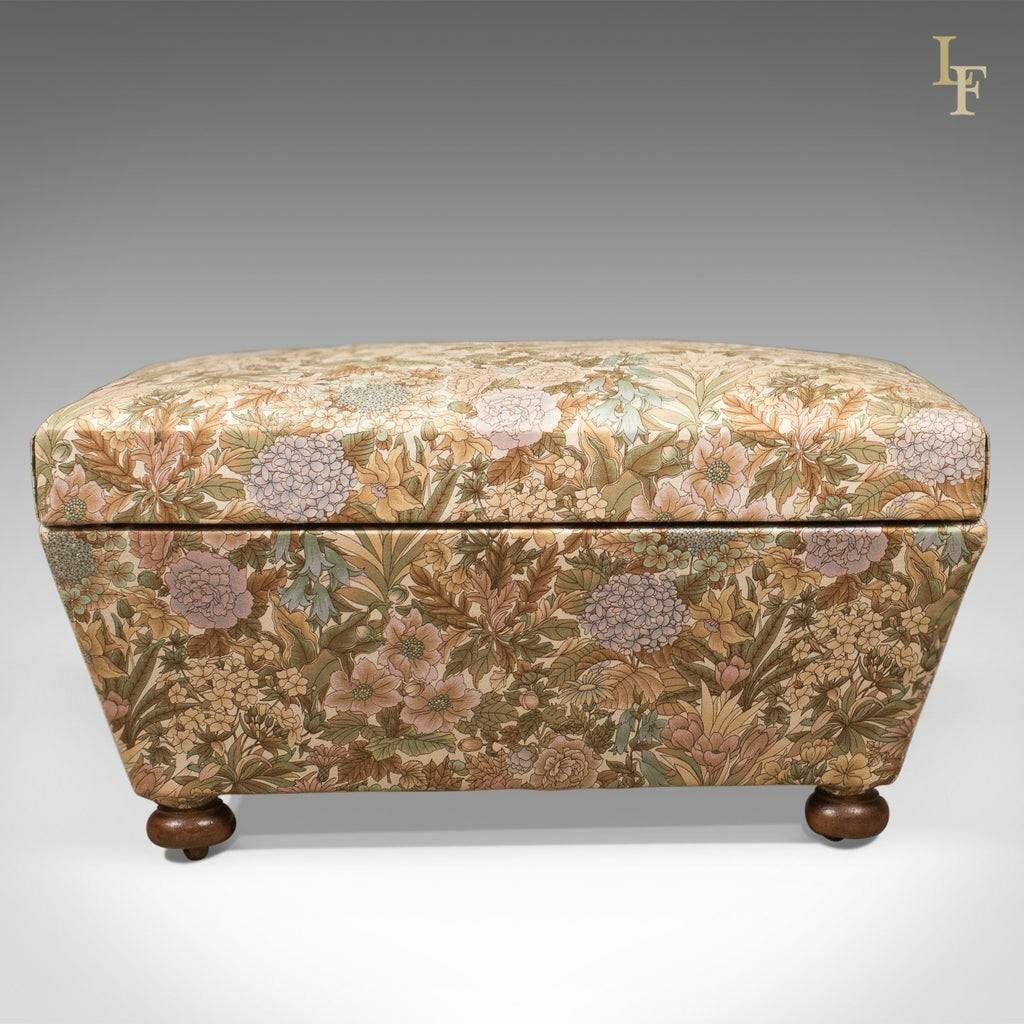 Much like the use of an oak chest of drawers, an ottoman can be used in the bedroom as storage furniture, or as a design detail.
When you think of an ottoman you probably think of a big, cushiony-looking piece of furniture. This antique piece has been around for decades and is still seen in homes today. It is perfect for holding up your feet while watching TV or sitting on when you are relaxing. It also works well in the bedroom as a nightstand.
There are many different colours to choose from and sizes so that you can find the perfect one for your home.
Traditional vintage ottomans are typically made from wooden materials, with golden hinges or embedded details. Ottomans are believed to have originated from Europe in the mid 1800s and were designed as additional seating in homes, however now they are rarely used as seating but more used for decorative effect or storage solutions.
Price : £500- £5,000
Antique Persian Rug
An antique rug can add the perfect touch of vintage charm to any room in your home. It's also a great way to improve the overall look and feel of your room. If you want to make a great investment for your home, consider purchasing a good quality antique rug.
The great thing about these types of rugs is that they can be used in many different ways. You could put it on the floor by itself or you can place it in front of your couch or even on the wall behind you. The possibilities are endless!
There are so many options out there that it can be hard to choose which one is right for you. In addition, they come in all shapes and sizes so there is something for everyone no matter what style you prefer.
As rugs are quite common household items, it can be difficult to determine what makes a rug an antique, or what defines the quality of a rug, however typically a good quality antique rug is a rug that predates the 1940's is still in original condition and offers a unique design aspect or pattern.
The most popular antique rugs are Persian antique rugs, these rugs are incredibly valuable and expensive, and averagely cost £50,000 for an authentic piece.
Price : £1000- £50,000
Antique Coffee Table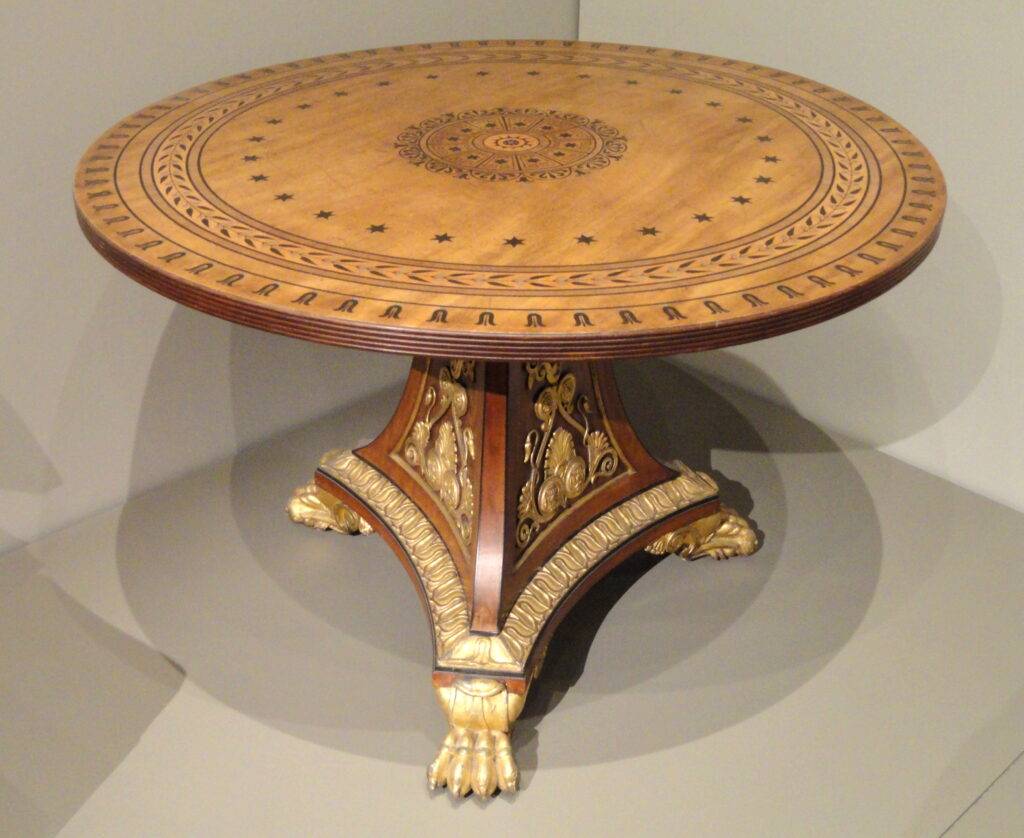 The coffee table is one of the most important pieces of furniture in your home. It's a great place for friends to visit and for children to play. The coffee table also functions as a space for people to have a drink, snack, or even read a book.
Due to the popularity of coffee tables, it's difficult to find an authentic antique coffee table that offers history to the furniture item, whilst also still provides quality materials and designs.
Antique coffee tables are believed to have originated in the Victorian era, in the late 1800's and can be worth thousands, depending on the quality and size of the piece. Coffee tables were believed to be a sign of wealth in homes of those who sat and drank tea and ate confectionaries.
Price : £200+
Antique Oil Painting
Another piece of furniture that can be used throughout your entire home, whether you're looking for something to hang above your fireplace, the hallway entrance or as a bedroom decoration, antique oil paintings are incredibly popular rustic decor furniture that can add an essence of history to your home.
However, antique oil paintings are incredibly hard to authenticate and value, due to their nature there are many oil paintings in existence, and finding original and valuable pieces can become quite hard work, even for professionally skilled antique dealers, with oil paintings not always being signed or dated, it takes a sharp eye to find the golden trophy paintings.
Unfortunately, being an old oil painting isn't enough to make the oil painting of high value, and it is largely dependent on the artist themselves, some newer oil painting artists can create pieces of work that range from £100-£30,000 and typically their success is measured in the sales of their paintings, however older pieces can be considered antique based off their skills and the preservation of the painting itself.
Price : £100 – £30,000
Antique Candelabra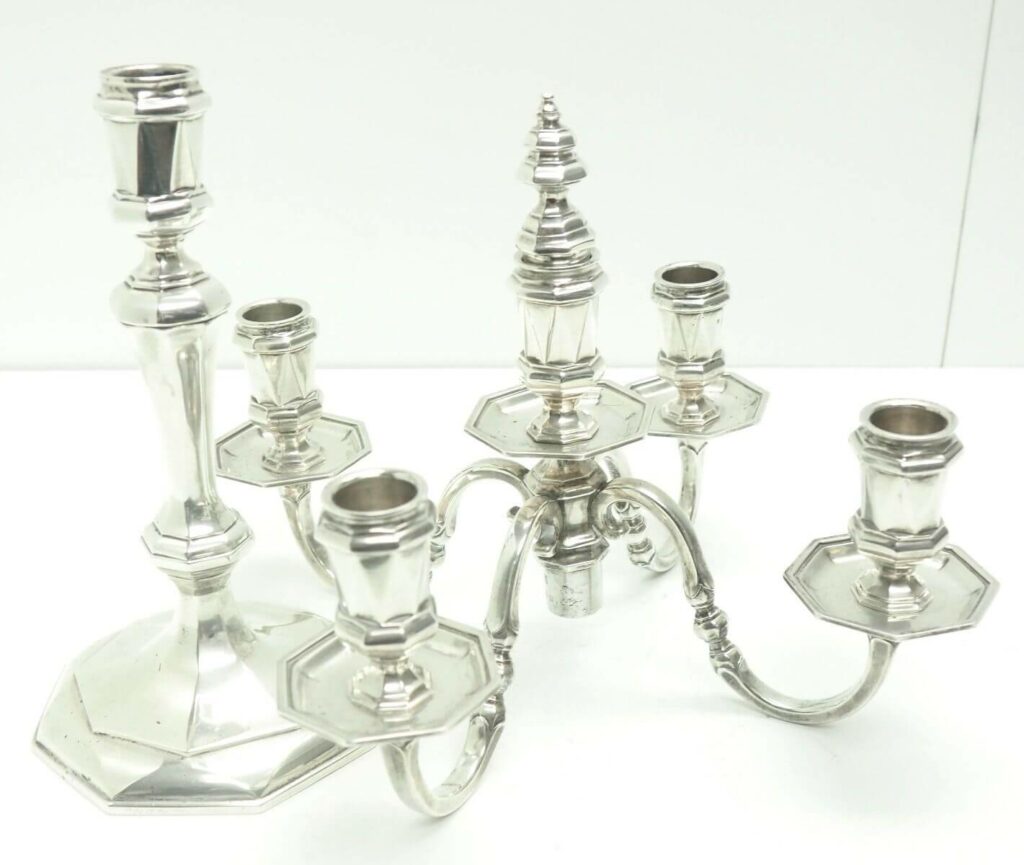 Finally, a lesser known antique valuable that many believed to be a sign of wealth are traditional style candelabras. Used from the 1800s as a means of lighting the dinner table for large parties of guests, or important business meetings, candelabras can typically hold between 2 and 12 candles, with the average Candelabra holding 8.
Candelabras of worth are typically made from silver or gold, with some offering simplistic structure of hands and holding slots, whilst others offer intricate designs pleated in gold or silver.
A traditional vintage candelabra can be expected to price between £300 – £30,000 depending on the maker, the date and the quality of material, if it is real silver, you should be able to identify a stamp on the candelabra, typically at the base of the piece that indicated what type of silver is used (900, 925, 800).
Price : £100 – £5,000
How Do I Know If My Furniture Is Valuable?
To find out if your antique furniture is authentic and valuable, you can visit an auction house and get your item inspected by a professional or you can visit your local antique shop and get a professionals opinion.