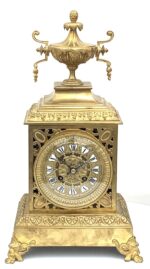 Bronze Ormolu Cubed Shaped Mantel Clock – 8 Day Striking Clock
Bronze Ormolu Cubed Shaped Mantel Clock – 8 Day Striking Clock
£520.00
Fantastic mantel clock
Ornate ormolu case with carved decoration
Scrolling ormolu feet
Cartouche ormolu and enamel dial
Dial protected via ormolu bezel and beveled glass
Incredible colour with antique patina
Ormolu bronze case
Cubed shaped case
8-day duration movement
French bell striking movement
Circa 1890
Comes with key and pendulum
Recently serviced movement
Working order
Measures 40cm high by 22cm wide & 13.5cm deep dial is 12.5cm in diameter
Perfect clock for any home this clock is made of ormolu bronze which has its original finish. The movement is access to the rear which is a good French 8-day movement strikes the half and the hour on a bell.
French brass two train ornate mantel clock striking on a bell, the 3.75″ gilt pierced foliate dial with Roman cartouche enamel numerals, within a foliate pierced stepped case surmounted by a classical urn, 15.5″ high (pendulum and key)
Very good condition for age, showing slight signs or age please view the many photos make sure happy.