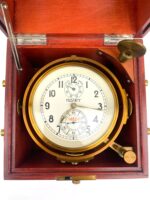 Original 2-day Marine Ships Chronometer Desk Clock No.14824 – Chain Fusee Box & Key
Original 2-day Marine Ships Chronometer Desk Clock No.14824 – Chain Fusee Box & Key
£1,500.00
Extremely good chronometer
Inner and outer box
Silvered dial
Serving ships had at least 3 of these sometimes up to 7
2-Day movement
Earnshaw's detent escapement
Compensation balance
Blue steel helical spring
Ormolu steel hands.
Original mahogany case
Dial is signed
Working order
A very fine & historically fascinating two-day marine chronometer.
Russian two day marine chronometer, the 3.5″ white dial inscribed Novet, no. 14824, with subsidiary state of wind and seconds dials, within a brass bound three part mahogany case; also within an outer mahogany guard case with leather straps (key)
MOVEMENT The full-plate movement with four ring-turned pillars secured with steel screws at the top plate which is further engraved chain fusee and spring barrel, the escapement with cut bimetallic balance with circular heat compensation weights, palladium helical balance spring and Earnshaw-type spring detent escapement with jewelled locking stone.
Outer box has signs of use chronometer working well